As the world is moving forward at a rapid pace and everything around us has picked up speed. The same is the case with the marketing industry. In Today's world, there has been an internet explosion and no one seems to be saved unaffected from it. Today, there are more internet users than at any time in history. Everything around us has taken a path to look for a solution on the internet. Our everyday life and activities cannot go on if we do not have the internet around us. So is the case with marketing. Today everyone wants to sell their products, whatever it may, on the internet and this concept has given birth to Digital Marketing.
Digital marketing or you can call it online marketing, internet advertising, selling products online, or doing business by just sitting at one place…whatever you call it, is actually marketing your company online and it has become a big deal these days. The ways people are using the internet today have also affected how people purchase products and interact with businesses.
So, what is digital marketing? Digital marketing is the type of marketing where you can connect and influence your customers.  The only difference is that you are using the internet to achieve this goal; online.
Digital Marketing-A deep Insight
Technically speaking, digital marketing refers to any online marketing efforts or assets. For example, social media marketing, email marketing, blogging, and even pay-per-click advertising are all great examples of digital marketing—they help introduce people to your company and convince them to buy.
Now, we will see what are the best and most common digital marketing strategies and resources that you can use to reach people through the internet.
What are the Resources
Well, honestly, anything can be a digital marketing resource. There is only one requirement; it should be a marketing tool that you use online to reach your targeted audience. There are thousands of digital marketing resources or assets out there. Now, we will see a few examples of what can be the digital marketing asset you can use.
It could be your personal blog or website
Resources like branded assets (logos, icons, flyers, posters, etc)
You could have video content (video ads, product demos, etc)
Images (infographics, product shots, company photos, etc)
You may also have written content (blog posts, eBooks, product descriptions, testimonials, etc)
Online products or tools (SaaS, calculators, interactive content, etc)
Reviews
Social media pages
Most of the resources mentioned above are just a tiny part of an ocean. But, these are also the most common assets you could have to begin with. Most of the other resources or tolls will fall into most of the above-mentioned categories. As more and more people are adopting this strategy to become successful marketers with new ways to reach customers online, the list keeps growing!



What are the Strategies?
The list of digital marketing strategies is also constantly evolving, but here are some of the strategies most businesses are using:
Affiliate Marketing
There are plenty of ways an industrious individual can make money online. Countless people have turned to the World-Wide-Web looking for good money-making opportunities they can accomplish from the comfort of their own home. It may seem daunting at first but you can make money online if you learn, duplicate, and most importantly have the determination to just start. To put in simple words affiliate marketing is a way of earning for you by selling products online from one company/firm to another company/firm or an individual person. Affiliate marketing is essentially paying someone else (a company or an individual) to promote your products and services on their website.
Content Marketing
If you have good writing skills and you have inspiring and creative thoughts in your mind to put into words, congratulations you are in luck. You can simply start writing today and become a pixel of the bigger pictures. Content marketing is another broad platform of Digital marketing. Content writing could be anything like; infographic posts, blog posts, eBooks, Captions.
You can also sign up for
Fiverr.com

today!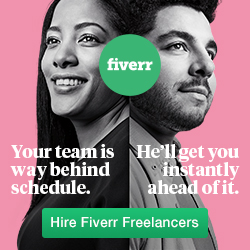 Any content that you have with you can become a powerful tool for you to become a marketer and sell it to others and earn in return. If you have videos, you could simply become a successful Vlogger and earn a livelihood out of it.
Social Media Marketing
First of all, social media marketing is a very powerful and easy-to-understand tool to become a successful marketer. Social media has more impact than any other tool in the world. Platforms, that social media provides, have a far more deep reach than any other platforms in the world. It is the free, organic way to use social media platforms like Facebook or Twitter, Linked In, Reddit, Quora, Youtube, Instagram, WhatsApp, and many others, to market your business. But, organically marketing your business on social media takes a lot of time and effort, but in the long run, it can deliver much cheaper results.
Email Marketing
For those of you who are using different email services and not aware of the term email marketing, you will be surprised to know how much people are making out of email marketing only. Email marketing is also a great tool to earn a handsome amount of money. Most digital marketers are using this strategy to promote their businesses. Most of the people who have adopted this strategy are advertising their businesses through cold or hot email systems. It is also one of the oldest forms of online marketing and it's still going strong.
Search Engine Optimization (SEO)
SEO or search engine optimization is a great and powerful asset to earn money. IF you are an expert in SEO you can easily offer your services online to individual people or giant businesses to rank their products. You can build a huge amount of organic traffic by SEO. SEO takes a bit of time to work effectively but this surely is a great way of becoming a digital marketer.
Native Advertising
Native advertising is a very simple yet powerful way of attracting people to different product services. Have ever gotten to the bottom of an article and seen a list of suggested articles? If yes, that's the native advertising for you.
But, most native advertising falls under the content marketing category, and because it uses content to attract clicks ("you'll never believe what happens next!"), it is often a bit hard to spot. Since it is usually mixed in with non-paid content recommendations, it generates results slower than other strategies…but that's kind of the point.
Pay-Per-Click Advertising
Any type of digital marketing where you have to pay to bring more users to your products, content, or services, falls under this category. For example, in Google AdWords, you actually run paid campaigns of the particular product to attract more people. It is a form of PPC advertising called "paid search advertising" (which we'll go over in a second).
Another great example is Facebook Ads, which are also known as "paid social media advertising" (again, we'll get into that shortly).
Paid Search Advertising
There are many giant companies that allow you to run ads and pay them. But, the most used platforms are Google, Bing and Yahoo, Amazon, eBay, etc, which allow you to run ads on their Search Engine Results Pages (SERPs). Paid search advertising is one of the best ways to target potential customers who are actively searching for a product or service like yours.
Paid Social Media Advertising
Almost, every social media platform allows its users to run paid social media campaigns in order to attract more people towards a particular topic or product. You can simply run the paid social media campaigns for others and can earn for yourself easily. Most social media platforms like Facebook, Instagram, Twitter, LinkedIn, Pinterest, and Snapchat, are actually using this strategy.
Conversion Rate Optimization (CRO)
Conversion rate optimization (CRO) is the art and science of improving your online user experience. Most of the time, businesses use CRO to get more conversions (leads, chats, calls, sales, etc) out of their existing website traffic. This strategy requires not only one just person but a team of people with the same goal and passion to pursue this strategy. As a team, you can work more efficiently. You can also work alone but that will cost you a lot of time to reach your goals.
As it is clear to you now, there are many ways you can market your business. You can also see because of this many businesses either hire an agency to manage their business or pay for an in-house marketing team and marketing automation software to cover their market needs.
Now, the question arises, does Digital Marketing Work?
Digital marketing has made a huge impact in the world. It has affected almost everyone around the globe in a much positive way. It has its pros and cons. But nonetheless, people are benefitting from it. Digital marketing requires your full attention and passion, to dedicate your valuable time for bigger benefits.
The world's needs are growing and changing every day. Everything is available on your phone just one click away. Many firms use advertising businesses to achieve their goals and grow potentially. And, I think, this is the beauty of digital marketing that you can buy anything, anytime sitting at any place. If you know who you want to target, you can use digital marketing to target anyone, anywhere.
Bonus Strategies to organize yourself in today's World
Now, we will discover, which strategies are the best for you to adapt. In order to work best, you will adapt either business-to-consumer (B2C) companies or Business-to-Business (B2B) companies. This might seem a bit confusing to those who are looking at these words for the first time, But, we will discover everything slowly.


B2C Companies
Well, honestly speaking, B2C companies generate much lower price points than their B2B counterparts. In B2B business it is quite difficult or a bit difficult to sell something costing $200,00 than selling something which will cost only $20 or $30. Clearly, there are more customers to buy lower-priced products than those fairly high priced.
But, this is actually what B2C companies want to do. They want to sell cheap services and products to the customers and in turn generate more customers. They will have to reach the right audience and sell their services and products to them. The trick lies in how they do it?
By adopting this strategy, B2C companies are creating a loop in which they will try to engage as many people as they can. For example, if you open an app or a website and see an advertisement where you will see something which really is your interest, there is a lot of chance you will buy that product. You will not have to build a ton of brand awareness or trust to buy a product of your interest at a cheaper price.
Keeping this in mind, B2C companies often see great results from higher-funnel marketing channels like social media marketing or paid social advertising. These channels do a great job of getting their business in front of potential customers who might not otherwise know that they exist.
Now, supplementing with other digital marketing strategies like paid search or SEO is always a good idea, but if you have to pick one channel to start with, paid social advertising or social media marketing are great options for B2C.
B2B Companies
B2B companies will choose a paid search platform, which is a great option for them. As B2B companies deal in big business and tend to offer expensive products and services, they have a very specific niche and target their audience accordingly which can be pretty hard to target using only social media. For example, if you sell a product worth $200,000 and someone searched for that same product, B2B company would want their result to be shown first and at the top. You might be paying a higher cost to buy a customer than you would pay with social media advertising, but with a $200,00 tag, it's money well spent.
B2B companies, in addition, run a much longer sales cycle than B2C companies. And, it is obvious, if you are selling such a costly product, most people don't come to your site, give you a call and say "I want one." As a result, longer-term strategies like content marketing or email marketing are often necessary to close a deal.
Of course, the right blend of digital marketing tactics will vary from industry to industry and business-to-business, but simply comparing B2C to B2B should help give you a sense of how different strategies can be better for certain businesses. Not every strategy is right for every business, but with a little trial and error, you should be able to identify the most profitable approach for your company.
How can you get started?
The good news is, getting started with digital marketing is fairly easy. Most online advertising platforms make it easy to sign up and create your first campaign (it is how they make money, after all). Here are a few links to beginner guides for several different digital marketing strategies:
Email marketing
Content marketing
Social media marketing
Paid search advertising
Search engine optimization (SEO)
Paid social media advertising
Conversion rate optimization
The core of every successful digital marketing campaign, however, isn't a guide. Regardless of which strategies you choose to use, here are the 4 most important questions that you need to understand and answer before you get started with digital marketing:


How Much Do You Need to Make?
The first and foremost thing is to set a goal. Once you set a goal, it will be much easier for you to understand the rest and how you will earn money from digital marketing. How you reach your goal can vary depending on whether your ultimate goal is to drive clicks, conversions or leads, sales, revenue, or a certain return-on-investment (ROI).
Reaching down to your goal, the ultimate outcome of your efforts should be ROI. Because, after all, if your efforts are not driving profitable revenue for your business, why are you marketing online?
Only clicks are not enough to generate enough money unless you don't sell your products. You will want to generate more money by selling your products as well. The revenue you will be generating from clicks will be spent on sales and promote your business even more efficiently.
With everything being said, you should be clear about one thing, how much revenue you want to generate from digital revenue. You should keep in mind your budget and expenses as well. Once, you have set a revenue goal, it will be much easier for you to determine how much Ad Spend will take to reach that goal.
Who Are You Marketing To?
The most important factor in digital marketing is to know the worth of your customers and your targeted audience. You need to bring customers to your site to let them buy your products. This is very critical and important at the same time because different buyer personas require different marketing strategies. And, even more importantly, different buyer personas turn out to be different buyers.
So guess what? If you don't understand your buyer personas, you can't make an effective digital marketing strategy!
If you've got a sales team, talking to sales can be one of the fastest ways to get a decent buyer persona together. After all, they're the ones who talk to your customers the most, right?
However, this might also not be enough, because even if customers are talking to your sales team, they might not get all the details they are looking for. You need to adopt a different strategy in this situation. You would have to get on the phone yourself and talk to your customers yourself.
Ask how they found you, why they converted, and what convinced them to pay you. This information will give you a ton of insight into your marketing and sales process that you can use to both improve the performance of your advertising and choose your marketing budget.
What is your Customer's Worth?
Now, this factor is very important for you to consider. Typically, you might look at buyer personas as a good way to craft an effective marketing strategy. Buyer personas are great for this, but they are also an important part of putting together an effective digital marketing plan.
For example, imagine you are advertising for a Web-Hosting business called Shared Web Hosting or VPS hosting, that has the following pricing structure:
In this situation, you're probably targeting 3 different buyer personas:
Small business "John"
Mid-market business "Ronaldo"
Enterprise business "Messi"
Small business "John" has much smaller and simpler business needs than Ronaldo or Messi, so he'll probably choose the Starter package. Ronaldo will probably want the Professional package and Messi will likely need the Enterprise package.
Keeping that in mind, John, Ronaldo, and Messi stick around for an average of 12 Months, 2 years, and 3 years, respectively (average lifetimes for a Web Hosting Customer) and buy 5, 20, and 100 licenses (again, respectively), here's the lifetime value for each of these customers ( [licenses/mo] x [Number of licenses] x [lifespan in months] ):
Lifetime Value
John: $177
Ronaldo: $4,776
Messi:$46,620
At first, these numbers look really exciting, but not all of that money is profit.
Let's assume, this company pays about 24% for the fulfillment, 10% for sales. And has a 36% overhead, leaving them with about 30% of the lifetime value of each client to play around with. That means to simply break even, Web hosting has to spend less than the following to acquire a customer from Facebook:
Maximum Acquisition Cost
John: $53.1
Ronaldo: $1432.8
Messi: $13986
If web-hosting business can keep their acquisition cost below this threshold, they'll make money. If it costs more than this to acquire each of these customers, they'll lose money.
See why buyer personas are so important to budgeting?
Of course, it's unlikely that the market is saturated with Messis, so web-hosting will need a mix of these deals to hit their revenue goals. That mix will dictate their Facebook budget.
So, if web-hosting is willing to spend $0.20 on marketing to produce $1.00 in lifetime value (for an 11% total profit margin), web-hosting can afford to pay the following for each buyer persona:
Customer Acquisition Cost
John: $354
Ronaldo: $955
Messi: $9324
If web-hosting can't produce paying customers from a particular buyer persona at a price point below this threshold, they probably shouldn't be marketing to that buyer persona.
However, if web-hosting's digital marketing efforts are currently producing buyers from each persona at these CAC (or even a CAC below these thresholds), web-hosting can use that information to then calculate their marketing budget.


How Much Do You Need to Spend to Reach Your Goals?
At this point, things are pretty simple. Just take your CAC, average purchase order value, and average number of purchases to calculate how much you will have to achieve in a month and how much you will have to spend to achieve this goal.
Let's assume that web-hosting wants to produce $2,425,500 in new revenue from digital marketing each month and they've determined that to do that, they need their marketing efforts to produce 100 sales a month they will need to budget $348,300/mo to achieve their new lifetime revenue goals.
See? I told you this part is easy! To make things even better, you can calculate your overall digital marketing budget or you can pick a specific strategy and use it to figure out whether or not a given strategy makes sense for your business. For example, if you need a CAC of $200, but your average cost-per-click on AdWords is $50, AdWords may not be the right digital marketing channel for you.
Conclusion
After reading through this article thoroughly, one thing should be very clear in mind, Digital marketing is the marketing of the present and the future. We have covered a lot of aspects in this article, and by applying different results you can simply see which strategy suits you and works best for you. You can apply any of the above strategies and see which strategy is more profitable for you to adopt.
By any chance, if you find this article convincing you. And makes you think to enter into digital marketing, but you need some help identifying the right approach, comment below and let us know. We would love to help you with your great ideas!