Today, in this article we will cover how you can build a small online business as a student. And, how to make money online, not only students but, anyone who is looking to build this small business online to earn some income like maybe $200, $300 or depending on how much you work per month, can benefit from this article. Now, I will share with you an action plan of 30 days that you are going to apply to start from today. And you will build somehow a strong online business from home and make money online; extra cents per month.
Hello everyone I am Arslan Raza and today I'm so happy to publish this new article with you. So, what's the idea behind this article today? And, why it's targeting students? Simply because this article is structured in a way it's targeting people who can't invest too much time and can't invest money. Usually, students don't have a lot of money to invest and they don't have much time because they are busy with their studies. And, most of them even don't own a single cent to start a new online business.
We are going to look at an action plan that requires working one or two hours per day starting with $0.00. So, let's go directly to our point and start explaining the action plan for you. But before we discuss anything please just have some patience; I have an important point for you:
It's very important to follow up step-by-step; I have structured the article in a way it's connected together to help you build a strong online business. Most of the important points are somehow connected, which will help you understand the action plan. So please don't miss any minute and read thoroughly till the end.  
What is the action plan to make money online as a student?
The idea today I want to pick three methods or three strategies that I'm going to combine together so we can build somehow a strong online business with three income streams  so we can ensure at least $200, $300 per month instead of picking only one and working  hard only one method that may fail and may succeed let's fix three so we can increase  the chance of success in this business okay
So, usually, when you want to work online on work from home or work on the internet we have a lot of methods like blogging like freelancing, like SAAS businesses, youtube channels, like Instagram sponsorships, building online shops, drop shipping, drop servicing, we have a lot of strategies and methods. But as I told you in this article we are targeting people who can't invest a lot of time and can't invest money so we need to start for free with $0.00 and we need to start with almost one or two hours a day as a maximum amount of time to work.
So what I picked for you to connect together in this video is three methods:
Freelancing
Affiliate marketing and,
Please listen carefully, I want to explain things and share some tips that really might help you to be successful in this business.
Freelancing (Best way to Make Money Online)
For beginners who don't know what is freelancing, it's simply providing a service online like, if you are a graphic designer you can, maybe, create logos, graphics, or whatever you want. Just draw something and provide this as a service online. Also, you maybe you are good in translation so you can offer translation services of eBooks, text, or whatever.
Maybe you are a programmer you can develop, some games, and websites or provide word press website services and vice versa. You might be a video animator; you can simply provide video animations or, if you are interested in SEO and digital marketing and provide digital marketing services and so on. What you have to do now is to think about a skill or a service you can provide. To help you with this, simply go to websites like fiverr.com, people-per-hour.com, or Guru.com.
You might be familiar with Fiverr or know more about this platform than I do. For me personally, it's the top marketplace for freelancing services. You can simply go there and hover over the categories like graphics and design and see all these services. There are multiple options provided on Fiverr, you can see what you can do.
Sign Up for Fiverr today!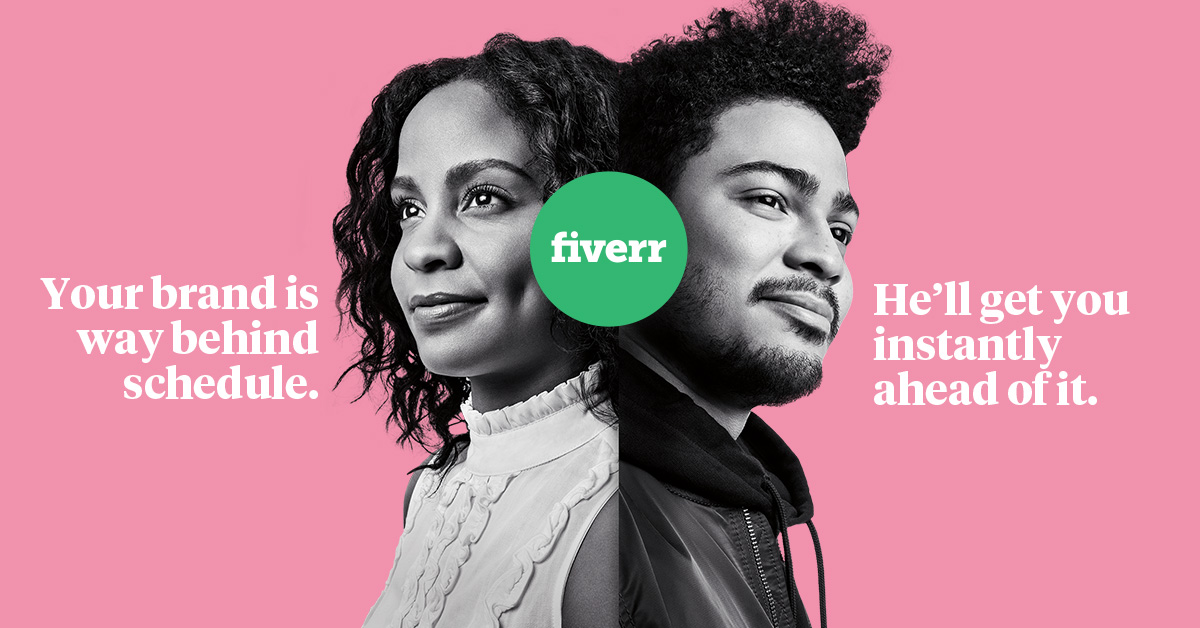 Choosing a Fiverr Category
For example, you can go to categories like digital marketing, social media advertisements, marketing strategies, content marketing, web analytics, and writing. Other categories; translations, sales copy, email copy, case studies, writing eBooks video, animation, music, programming, business lifestyle, and tons of other services.
What you are going to focus on first is to find some topics some skills or some ideas that you can provide services in. Honestly, this is your job, you have to sit down get a paper; start brainstorming what can you do? What can you provide? What skills do you have? Maybe you are going to learn a skill. So first of all, you need to choose skills and the services that you are going to provide whatever it may be. You can choose what you are studying or what you are good at. Simply, provide the skill as a service on these websites.
Now, to get a better chance to getting some more clients you can post your gigs and your services on websites like
Peopleperhour.com and,
Guru.com
So, create the same gigs and the same services and publish them on multiple platforms to increase the percentage to increase the chance to get more clients.
This is the first strategy we applied; to publish your services and gigs on these websites. Now, for the first week, you have to pick the ultimate skills and services due to be offered to your clients. You can provide these services on these websites, and you can search for more platforms on Google. Just publish on different websites to get more and more clients.


This is the second strategy blogging that can help you. What I mean by blogging is to build a small blog for you. Like in my case, I have my own blog chancesforyouth.com. I'm not asking you to build an advanced blog like this one.  What I mean to say is to create a blog that will help you promote your services and later on to promote affiliate links. In this way we are actually connecting three strategies together; freelancing, blogging, and affiliate marketing in order to generate more revenue every month. This is how you will make money online working as a beginner.
With these three income sources to be connected, you need to create your own free blog. To do this you can go to a website, blogger.com, and create a free blog there. It's a company owned by Google. You can simply go to it, create a new blog, and name it whatever you want to. For example, as shown in the picture below I have a blog named Chances for Youth, you can use any name or your name if you want to. Once you created the blog, you can create new posts and start writing small articles about anything you like. But it's better to pick a topic related to your services, as an example if you are a graphic designer write about graphic designing topics.
You can write about your experience in the university or college or whatever you are doing. Always write something related to your services on Fiverr or on the other freelancing websites in order to connect blogging with freelancing.
So, now, you have to publish like five to ten articles per month as an example (which is not recommended). You can write 15-20 articles in a month very easily as a beginner. It will be a huge step forward and later on, you can use this blog to link and promote your Fiverr gigs and your services. And at the same time, you can link it with your affiliate marketing links or services.
It's simply promoting products and services for someone else and you will earn per commission. Let's give you an example. We have a service called canva.com. Canva allows you to create graphic designs logos, banners, social media posts, and tons of other services, but mostly related to graphics designs. It's one of the top applications in this field. In Canva we have an affiliate program.
If you sign up to Canva and just go down to partnerships and affiliate programs you will see a guideline on how to become an affiliate with Canva. Simply, sign up for this program and start promoting it. So, if you are providing freelancing services as a graphic designer and at the same time, you are writing about graphic design services you can simply promote Canva.  In this way, you are linking three strategies together; affiliate marketing with blogging, and with freelancing. And in this way, you can build a strong online business.
I know many of you who are new to this don't know how to promote affiliate links or how to create blogs, how to pick topics, and so on. The sole purpose of this article is to show you the road map, the action plan in 30 days. Take the first week to publish your Gigs. Next week set up your posts and your blog and start writing articles. The third week is to find affiliate products and to link them back to your blog. The last week or week number four is to start getting traffic. This way you can make money online in no period of time.



How I will help you?
And this way you can grow online, but at the same time I will not ask you to leave, "go, learn by yourself". If you keep following this blog I will probably write about all the topics. For example, how to create your own free blog? How to pick a niche (category or idea you can write about)? How to choose different affiliate products and links? And, most importantly, I will probably write how to bring traffic to your website?
This for students, I think, is the best way to build a small business online working from home, to make money online.  As we know, many might not apply anything. Or might not go and learn anything, or just keep wasting their time on Netflix or Social media. But, at the same time, there will be few who will go and search about it. Learn an idea two and start working on it.
Believe me or not, if you just pick up your phones or laptops and start dedicating an hour or two daily. You will start seeing results in a very short span of time. Within a short period of time, you will see your online business growing and picking up pace. You will make money online in no time. I will try my best to share and help anyone who will ask me for help.
Conclusion
I have put a little effort to make things clear to those who are in dire need to support them financially. Also, I know there is so much in this article that needs explanations at a full scale. I will try my best to cover each and every topic slowly. I would keep sharing all the details I know.
If you think this article has helped in any way or is appealing to you to work and build your own small online business. Do let me know in the comments box below. I ask you to share this article with others as it may really help a lot of students today. Especially in 2021 in this Covid-19 epidemic.  Share it with your friends and stay tuned on the blog for more exciting articles!
If you are interested in learning Digital Marketing. This might be helpful.